About Guitar Workshop Plus
The Ultimate in Music Education
Guitar Workshop Plus is much more than just a guitar camp or summer music camp. We offer week long workshops in a musical environment at superb facilities. Our faculty members are professional musicians and instructors with extensive experience teaching in summer music programs, workshops, private settings, and post secondary institutions. Along with receiving visits from world famous guest artists, our top ranked summer music program allows students to participate in daily classes, clinics, ensemble and student performances, and evening concerts. World famous guest artists such as Joe Satriani, Alex Lifeson (Rush), John Scofield, John Petrucci (Dream Theater), Robben Ford, Billy Sheehan, and many more teach and perform for our participants.
Currently instruction is provided for:
guitar
bass
drums
keyboard
vocals
songwriting
Students elect to study a class or seminar each session. The guitar program is extensive and unique in that students elect to study the style that they enjoy most.
Guitar styles include:
rock
blues
jazz
acoustic
classical
country
We offer comprehensive classes covering:
hands-on technique
theory
performance
musicianship skills
ear training
rhythm studies
and more!
In addition, most of these classes include a one-hour per day rhythm section class in which students are given the opportunity to play with the faculty rhythm section and apply the skills and knowledge they are acquiring in class to a performance setting. Attendees also rehearse with ensembles throughout the week which will perform at the end of the session.
Classes:
Classes are offered for varying skill levels ranging from beginner to advanced. On the first day of the session, all students are evaluated to ensure that they are placed in the appropriate class level thereby maximizing their learning potential. Class sizes are small to promote individualized attention for each student as well as to facilitate ensemble arrangements.
Seminars:
Seminars are courses which concentrate on specific topics and will sometimes feature guest instructors. Generally, seminars are designed for the intermediate to advanced player although some may be open to all levels. Students are evaluated to ensure that they are at an appropriate level for the course. Seminar students meet with the instructor all day and, because there is no restriction to class size, do not take part in rhythm section classes. Faculty led ensembles for seminars depend upon class size and format.
Clinics:
In addition, all students may attend clinics. Each day, two or three clinics are offered covering topics such as improvisation, songwriting, vocals, scales and modes, building technique, slide, percussion, hand drumming and more. Students are welcome to sign up for these clinics on campus.
Concerts:
Each day at the workshop concludes with an evening concert. These include faculty performances, student jams, ensemble concerts, and performances by our amazing guest artists. This is a unique opportunity to enjoy some of the world's finest musicians in an intimate setting. In addition to the student jams and concerts, many of the artists will invite attendees up to play with them as well so the fun never ends!!
Seattle Facilities
Our program is held on the beautiful campus of Northwest University, located in one of the most sought-after communities in Washington: Kirkland. The campus sits on 56 acres of rolling greens and trees, overlooking Lake Washington. Within walking distance of campus, you'll enjoy the gorgeous shores of Lake Washington while looking across to views of the Seattle skyline and snow-capped peaks of Olympic National Park. Attendees are able to enjoy the beauty and safety of Kirkland while being just 10 minutes from all of the amenities of Seattle and close to outdoor adventures in the area. This location offers great facilities and accommodations including modern classrooms, auditorium, dorm accommodations, and fantastic food service. The world-class city of Seattle boasts a healthy music scene and plenty of attractions including the Experience Music Project Museum, Pike Place Market, Space Needle, and top notch shopping and dining.
Seattle Area Attractions
Space Needle
Pike Place Market
Museum of Pop Culture
Safeco and CenturyLink Fields
Washington State Ferries
Seattle Aquarium
Seattle Great Wheel
Faculty and Artists
2019 Guest Artists
Our guest artists share their knowledge and experiences with our students while visiting classes, conducting clinics, and performing concerts. Past Guest Artists include: Joe Satriani, Alex Lifeson (Rush), Robben Ford, John Scofield, Steve Vai, Randy Bachman, Paul Gilbert, Andy Summers (The Police), Billy Sheehan, Pierre Bensusan, John Petrucci (Dream Theater), John Abercrombie, Duke Robillard, Andy Timmons, Mike Stern, John Knowles, Rik Emmett, John Jorgenson, Sue Foley, Jennifer Batten, Andy McKee, Orianthi, Paul DeLong, Tommy Emmanuel, Rhonda Smith, Guthrie Govan and more…..
Alex Skolnick
Alex Skolnick is both an original member of Bay Area metal outfit Testament (which he joined at age sixteen) and a respected New York improviser of multiple styles. According to a Guitar World magazine readers' poll, he is considered one of the greatest guitarists of all time and one of the fastest guitarists in the world. Emerging as one of the original melodic thrash guitarists (alongside Marty Friedman), Alex was a student of none other than Joe Satriani and later moved to New York and earned a BfA in Jazz from The New School, studying with such prestigious artists as George Garzone, Cecil McBee and Reggie Workman. Now a longtime resident of Brooklyn New York, he has gone on to release several critically acclaimed albums with the Alex Skolnick Trio. In 2005, he reunited with Testament, the impact of which has eclipsed the band's initial run. When not supporting the likes of Slayer and Megadeth on tour with Testament, Alex can be found headlining The Blue Note in Milan, Agharta in Prague, New York's Iridium or various elegant venues across the world. He is also a first call player for jazz/rock projects including the Stu Hamm/Alex kolnick/Chad Wackerman power trio, Jane Getter Premonition featuring alumni from Pat Metheny Group (Mark Egan) and Miles Davis (Adam Holzman), as well as "Celebrating Allan Holdsworth," in which Alex is one of several guitarists with the prestigious position of filling in for the late, great innovator at a series of shows with his (Holdsworth's) touring band. Alex ;is also the leader of the critically acclaimed world acoustic project, Planetary Coalition. As an educator and speaker, Alex has been invited to give keynote addresses at academic events and conferences. As a writer, Alex is an editor and contributor to UNBUILT, a biannual lifestyle and cultural magazine that includes his friend and fellow "metal intellectual," D Randall Blythe (vocalist of Lamb of God). He has also written for The Talkhouse, Guitar World, Guitar Player and other publications. Whether carefully listening and playing alongside the world's top instrumentalists or loudly shredding with Testament or Metal Allegiance, it's safe to say that Skolnick has found his own niche as a guitarist.
Robben Ford
Watching Robben Ford take the stage is equal parts gratifying, awe-inspiring, and challenging—a perfect storm of creativity and emotion that results in some seriously good music. As soon as he plays his first note, you realize that you're in the presence of a bonafide guitar master. With five Grammy nominations, a three-decade-long solo career, and a resume that includes Miles Davis, Joni Mitchell, and George Harrison, his accomplishments reflect the versatility and musicality of someone who has pursued their true calling. During a live performance, Robben is acutely tuned in, feeding off the energy from the audience, and fully prepared to throw you a curve ball at any moment. In other words, it's an experience not to be missed. From his early years of touring with Charlie Musselwhite and Jimmy Witherspoon, to the formation of The L.A. Express, The Yellowjackets, and his own band, The Blue Line, Robben has proven himself to be one of the premier guitarists in blues, jazz, and R&B. Guitarists around the world look up to this legendary musician for inspiration. He enjoys sharing his knowledge with fellow musicians through clinics and is a long time member of the GWP family.
Faculty
Our faculty is carefully selected and comprised of professional musicians and instructors with extensive experience teaching in workshops, private settings, and post secondary institutions. These talented educators have considerable recording backgrounds, perform around the world, author instructional books and write articles for music magazines.
Sample Daily Schedule:*
Breakfast
Classes & Seminars
Lunch
Classes & Seminars
Ensemble Rehearsals
Clinics/Free Time
Dinner
Clinics
Concert
8am – 9am
9am – 1pm
1pm – 2pm
2pm – 3pm
3:00pm – 3:30pm
3:30pm – 5:30pm
5:30pm – 6:30pm
6:30pm – 8pm
8:30pm
*Times may vary according to course selection, facilities, etc. The first and last day of the session follow a different schedule to accommodate registration and check-out.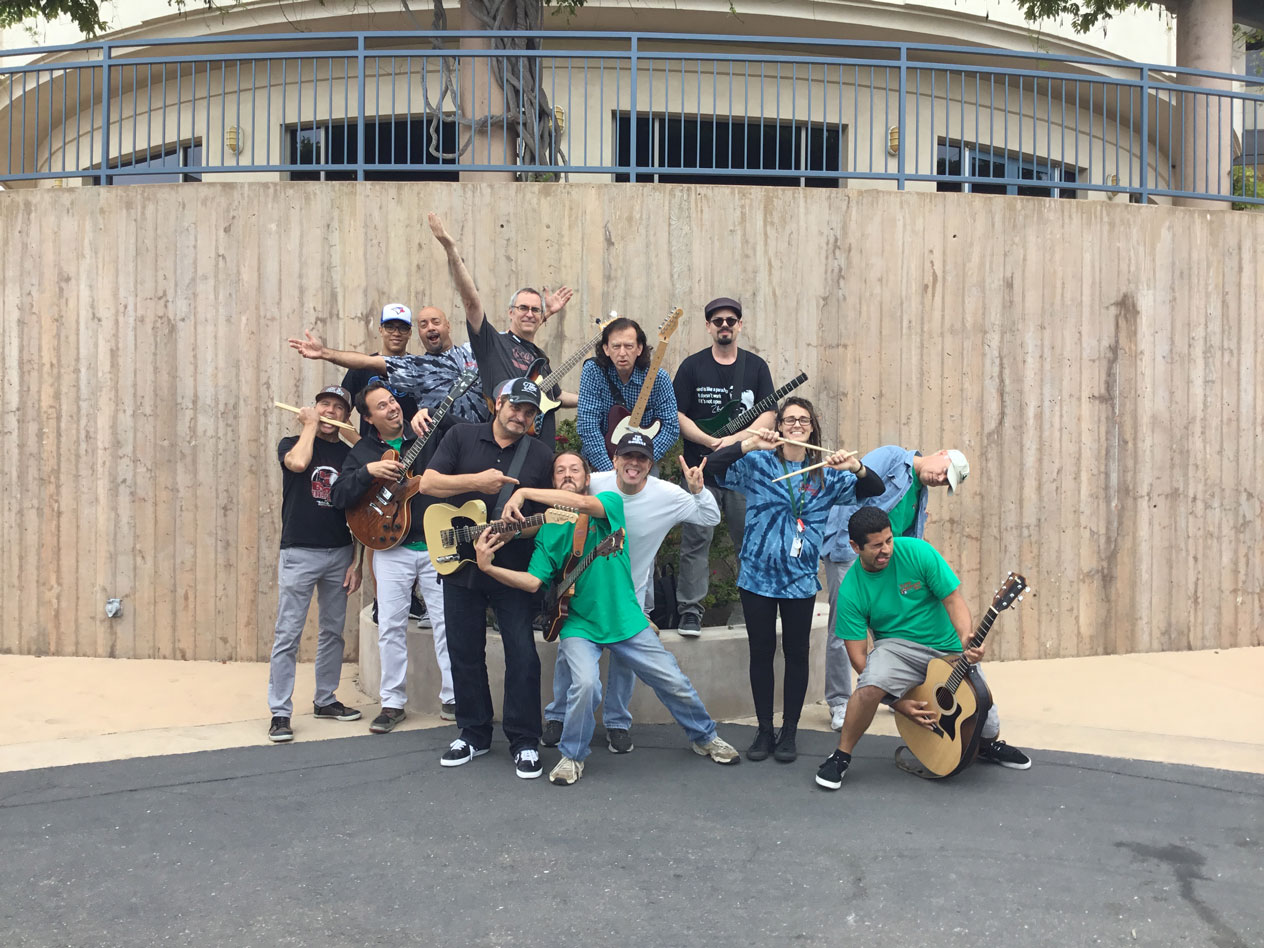 Pricing
2019 Seattle Session Fees (U.S. Dollars)
Registration Fee (non-refundable): $60
Tuition (Per Session): $970
On-campus Room & Board (Per Session): $550
Students attending multiple sessions receive a $100 discount.
Amp Rental (optional): $40
For those students who do not have a small portable amplifier for use in the classroom or dorm.
Meal Package (optional): $255
For off-campus students requiring lunch and dinner.
Extra Night: Early Arrival (optional): $100
For students arriving from out of town who require accommodation the night before the start of the session. Meals are not provided until the session begins.
Private Room (optional): $350
Travel Information
Seattle Travel
Students should fly into Seattle-Tacoma International Airport and can arrange for shuttle, taxi, and other ground transportation to the campus.
Northwest University
Address: 5520 108th Ave NE, Kirkland, WA 98033, USA