About Guitar Workshop Plus
The Ultimate in Music Education
Guitar Workshop Plus is much more than just a guitar camp or summer music camp. We offer week long workshops in a musical environment at superb facilities. Our faculty members are professional musicians and instructors with extensive experience teaching in summer music programs, workshops, private settings, and post secondary institutions. Along with receiving visits from world famous guest artists, our top ranked summer music program allows students to participate in daily classes, clinics, ensemble and student performances, and evening concerts. World famous guest artists such as Joe Satriani, Alex Lifeson (Rush), John Scofield, John Petrucci (Dream Theater), Robben Ford, Billy Sheehan, and many more teach and perform for our participants.
Currently instruction is provided for:
guitar
bass
drums
keyboard
vocals
songwriting
Students elect to study a class or seminar each session. The guitar program is extensive and unique in that students elect to study the style that they enjoy most.
Guitar styles include:
rock
blues
jazz
acoustic
classical
country
We offer comprehensive classes covering:
hands-on technique
theory
performance
musicianship skills
ear training
rhythm studies
and more!
In addition, most of these classes include a one-hour per day rhythm section class in which students are given the opportunity to play with the faculty rhythm section and apply the skills and knowledge they are acquiring in class to a performance setting. Attendees also rehearse with ensembles throughout the week which will perform at the end of the session.
Classes:
Classes are offered for varying skill levels ranging from beginner to advanced. On the first day of the session, all students are evaluated to ensure that they are placed in the appropriate class level thereby maximizing their learning potential. Class sizes are small to promote individualized attention for each student as well as to facilitate ensemble arrangements.
Seminars:
Seminars are courses which concentrate on specific topics and will sometimes feature guest instructors. Generally, seminars are designed for the intermediate to advanced player although some may be open to all levels. Students are evaluated to ensure that they are at an appropriate level for the course. Seminar students meet with the instructor all day and, because there is no restriction to class size, do not take part in rhythm section classes. Faculty led ensembles for seminars depend upon class size and format.
Clinics:
In addition, all students may attend clinics. Each day, two or three clinics are offered covering topics such as improvisation, songwriting, vocals, scales and modes, building technique, slide, percussion, hand drumming and more. Students are welcome to sign up for these clinics on campus.
Concerts:
Each day at the workshop concludes with an evening concert. These include faculty performances, student jams, ensemble concerts, and performances by our amazing guest artists. This is a unique opportunity to enjoy some of the world's finest musicians in an intimate setting. In addition to the student jams and concerts, many of the artists will invite attendees up to play with them as well so the fun never ends!!
Toronto Location
The Residence & Conference Centre – Toronto is located on the Seneca College Newnham Campus. This location boasts modern suite-style accommodations, conference centre facilities which offer 20,000 square feet of event space with audio-visual and on-site food services. Residence & Conference Centre – Toronto at Seneca College Newnham is conveniently located 20 minutes from Downtown Toronto with easy access to both Hwy # 401 and Hwy # 404. Other fun attractions nearby include the Ontario Science Centre, CN Tower, Rogers Centre, Ripley's Aquarium, Toronto Zoo, Hockey Hall of Fame, Canada's Wonderland, and Fairview Mall. Even without a vehicle, making your way around the city from this location is a breeze as it is located on a main bus route and a short distance to the Finchsubway station.
Excellent Accommodations
Each Air Conditioned suite includes:
Two separate bedrooms (one double-size bed in each room)
Kitchenette (full-size refrigerator, microwave)
3-piece bathroom (towels, shampoo, conditioner, soap)
Complimentary high speed internet, cable television, telephone service
Full housekeeping services
On-Site:
24-hour Front Desk
Subway restaurant
Convenience store
M&M food market
Games room & movie lounge
24-Hour Laundry Rooms available
On-site parking available
Discover All The Exciting Things To Do Toronto, ON
The Residence Conference Centre – Seneca is a short drive from downtown Toronto and minutes from the Ontario Science Centre and Fairview Mall. Within walking distance from the residence you will find a variety of restaurants and other conveniences including banks, pharmacy and grocery stores. A variety of nearby transport options are available such as buses and subway lines to ensure quick, convenient access to Toronto's greatest landmarks and shopping districts.
Nearby Attractions:
Fairview Mall
Ontario Science Centre
Royal Ontario Museum
Toronto Zoo
Hockey Hall of Fame
CN Tower
Rogers Centre
Ripley's Aquarium
Canada's Wonderland
Niagara Falls
Faculty and Artists
Guests Artist (2019 Guest Artists To Be Announced)
Our guest artists share their knowledge and experiences with our students while visiting classes, conducting clinics, and performing concerts. Past Guest Artists include: Joe Satriani, Alex Lifeson (Rush), Robben Ford, John Scofield, Steve Vai, Randy Bachman, Paul Gilbert, Andy Summers (The Police), Billy Sheehan, Pierre Bensusan, John Petrucci (Dream Theater), John Abercrombie, Duke Robillard, Andy Timmons, Mike Stern, John Knowles, Rik Emmett, John Jorgenson, Sue Foley, Jennifer Batten, Andy McKee, Orianthi, Paul DeLong, Tommy Emmanuel, Rhonda Smith, Guthrie Govan and more…..
Faculty
Our faculty is carefully selected and comprised of professional musicians and instructors with extensive experience teaching in workshops, private settings, and post secondary institutions. These talented educators have considerable recording backgrounds, perform around the world, author instructional books and write articles for music magazines.
Sample Daily Schedule:*
Breakfast
Classes & Seminars
Lunch
Classes & Seminars
Ensemble Rehearsals
Clinics/Free Time
Dinner
Clinics
Concert
8am – 9am
9am – 1pm
1pm – 2pm
2pm – 3pm
3:00pm – 3:30pm
3:30pm – 5:30pm
5:30pm – 6:30pm
6:30pm – 8pm
8:30pm
*Times may vary according to course selection, facilities, etc. The first and last day of the session follow a different schedule to accommodate registration and check-out.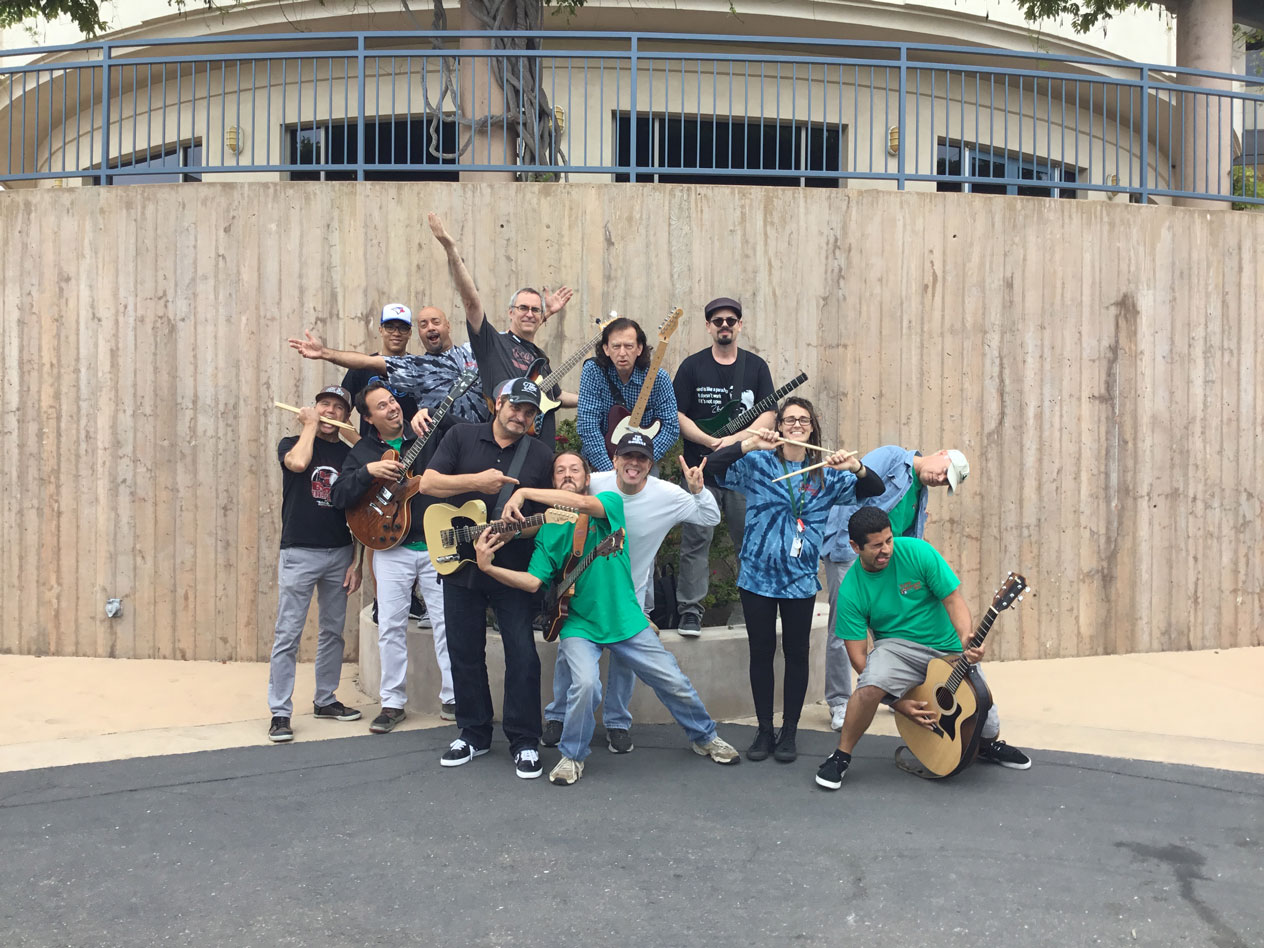 Pricing
2019 Toronto Session Fees (CND Dollars)
Registration Fee (non-refundable): $60
Tuition (Per Session): $970
On-campus Room & Board (Per Session): $600
Students attending multiple sessions receive a $100 discount.
Amp Rental (optional): $40
For those students who do not have a small portable amplifier for use in the classroom or dorm.
Meal Package (optional): $265
For off-campus students requiring lunch and dinner.
Extra Night: Early Arrival (optional): $145
For students arriving from out of town who require accommodation the night before the start of the session. Meals are not provided until the session begins.
Private Room (optional): $350
Travel Information
Toronto Travel
Students are responsible for their own transportation to and from the campus. Toronto's Pearson International Airport is the nearest airport located 20 minutes away. Taxi and limousine services are available from the airport.
The Residence & Conference Centre
Address: 1760 Finch Ave E, Toronto, ON M2J 5G3
Guitar Workshop Plus would like to thank: