About Guitar Workshop Plus
The Ultimate in Music Education
Guitar Workshop Plus is much more than just a guitar camp or summer music camp. We offer week long workshops in a musical environment at superb facilities. Our faculty members are professional musicians and instructors with extensive experience teaching in summer music programs, workshops, private settings, and post secondary institutions. Along with receiving visits from world famous guest artists, our top ranked summer music program allows students to participate in daily classes, clinics, ensemble and student performances, and evening concerts. World famous guest artists such as Joe Satriani, Alex Lifeson (Rush), John Scofield, John Petrucci (Dream Theater), Robben Ford, Billy Sheehan, and many more teach and perform for our participants.
Currently instruction is provided for:
guitar
bass
drums
keyboard
vocals
songwriting
Students elect to study a class or seminar each session. The guitar program is extensive and unique in that students elect to study the style that they enjoy most.
Guitar styles include:
rock
blues
jazz
acoustic
classical
country
We offer comprehensive classes covering:
hands-on technique
theory
performance
musicianship skills
ear training
rhythm studies
and more!
In addition, most of these classes include a one-hour per day rhythm section class in which students are given the opportunity to play with the faculty rhythm section and apply the skills and knowledge they are acquiring in class to a performance setting. Attendees also rehearse with ensembles throughout the week which will perform at the end of the session.
Classes:
Classes are offered for varying skill levels ranging from beginner to advanced. On the first day of the session, all students are evaluated to ensure that they are placed in the appropriate class level thereby maximizing their learning potential. Class sizes are small to promote individualized attention for each student as well as to facilitate ensemble arrangements.
Seminars:
Seminars are courses which concentrate on specific topics and will sometimes feature guest instructors. Generally, seminars are designed for the intermediate to advanced player although some may be open to all levels. Students are evaluated to ensure that they are at an appropriate level for the course. Seminar students meet with the instructor all day and, because there is no restriction to class size, do not take part in rhythm section classes. Faculty led ensembles for seminars depend upon class size and format.
Clinics:
In addition, all students may attend clinics. Each day, two or three clinics are offered covering topics such as improvisation, songwriting, vocals, scales and modes, building technique, slide, percussion, hand drumming and more. Students are welcome to sign up for these clinics on campus.
Concerts:
Each day at the workshop concludes with an evening concert. These include faculty performances, student jams, ensemble concerts, and performances by our amazing guest artists. This is a unique opportunity to enjoy some of the world's finest musicians in an intimate setting. In addition to the student jams and concerts, many of the artists will invite attendees up to play with them as well so the fun never ends!!
Nashville Facilities
Middle Tennessee State University is located in Murfreesboro, Tennessee just outside of Nashville, TN – Music City USA! In addition to the great location, this campus features great housing and dining facilities and has fantastic music facilities including a beautiful auditorium and stage, large music classes, and practice wenger units. Near-by attractions include historical buildings and museums, several annual festivals, and the Center for the Arts. Famous Nashville attractions include Music Row which is filled with legendary honky tonks, bars, and music venues, The Country Music Hall of Fame, and the Grand Ole Opry.
Discover All The Exciting Things To Do In Nashville!
Grand Ole Opry
Music Row
Broadway
Country Music Hall of Fame
RCA Studio B
Ryman Auditorium
Johnny Cash Museum
Faculty and Artists
2019 Guest Artists
Our guest artists share their knowledge and experiences with our students while visiting classes, conducting clinics, and performing concerts. Past Guest Artists include: Joe Satriani, Alex Lifeson (Rush), Robben Ford, John Scofield, Steve Vai, Randy Bachman, Paul Gilbert, Andy Summers (The Police), Billy Sheehan, Pierre Bensusan, John Petrucci (Dream Theater), John Abercrombie, Duke Robillard, Andy Timmons, Mike Stern, John Knowles, Rik Emmett, John Jorgenson, Sue Foley, Jennifer Batten, Andy McKee, Orianthi, Paul DeLong, Tommy Emmanuel, Rhonda Smith, Guthrie Govan and more…..
John Scofield
Aside from being one of the principal innovators of modern jazz guitar, John Scofield is a creative artist of an even rarer sort: a stylistic chameleon who has forged a consistent, rock-solid aesthetic identity. A triple Grammy award winner with fan bases in many camps and 40 plus recordings to his credit, bandleader and composer Scofield has expressed himself in the vernacular of bebop, blues, jazz-funk, organ jazz, acoustic chamber jazz, electronically tinged groove music, jam band style and orchestral ensembles with ease and enthusiasm. With multiple Grammy nominations and named an Officier dans L'Ordre des Arts and Lettres by France, Scofield tours the world approximately 200 days per year with his own groups. Affectionately referred to by his legions of fans as 'Sco', John has shared stage and studio in the company of Miles Davis, Tony Williams, Jim Hall, Ron Carter, Herbie Hancock, Joe Henderson, Dave Holland, Charlie Haden, Pat Metheny, Jack DeJohnette, Joe Lovano, Brad Mehldau, Eddie Harris, John Mayer, Phil Lesh, Aaron Neville, Mavis Staples and MMW among many music legends. He is also an Adjunct Professor at New York University.
Billy Sheehan
Legendary bassist Billy Sheehan has played on dozens of records and toured all over the world for many decades. His unique and original style of playing has been celebrated and documented everywhere. His playing, singing, songwriting, and contributions to his many recordings have resulted in millions of records sold, Platinum and Gold status worldwide, Reader's Poll Awards too many to list, Number #1 hits, Number #1 Videos, sold-out shows, and most importantly the mutual love, friendship and respect between himself and many millions of fans around the globe. Starting with the now legendary hard rock trio Talas, he went on to join David Lee Roth along with Steve Vai & Gregg Bissonette. The legendary 'Eat 'Em and Smile' record and tour went on to platinum status and sold out shows everywhere. He founded Mr. Big, who went on to achieve a number one hit in 14 countries, recorded and toured the world playing to sold out venues. He started fusion/blues trio "Niacin" with drummer Dennis Chambers, played with Steve Vai on record and for several tours, released several solo records. Billy joined Mike Portnoy and Richie Kotzen to form "The Winery Dogs" which has been received everywhere with spectacular reviews and sold-out shows. Billy also joined "Sons of Apollo" releasing the album Psychotic Symphony followed by a gruelling tour schedule in 2018 that saw Billy pull double duty between Mr Big and Sons of Apollo. The year was capped off with Billy winning another Best in Bass 2018 readers' poll. With his history of live performances and/or recordings with Talas, UFO, David Lee Roth, Mr. Big, Niacin, Steve Vai, The Winery Dogs and Sons of Apollo, he has had a huge and undeniable influence on modern bass playing that has spread all over the globe and will continue for many years to come.
Faculty
Our faculty is carefully selected and comprised of professional musicians and instructors with extensive experience teaching in workshops, private settings, and post secondary institutions. These talented educators have considerable recording backgrounds, perform around the world, author instructional books and write articles for music magazines.
Sample Daily Schedule:*
Breakfast
Classes & Seminars
Lunch
Classes & Seminars
Ensemble Rehearsals
Clinics/Free Time
Dinner
Clinics
Concert
8am – 9am
9am – 1pm
1pm – 2pm
2pm – 3pm
3:00pm – 3:30pm
3:30pm – 5:30pm
5:30pm – 6:30pm
6:30pm – 8pm
8:30pm
*Times may vary according to course selection, facilities, etc. The first and last day of the session follow a different schedule to accommodate registration and check-out.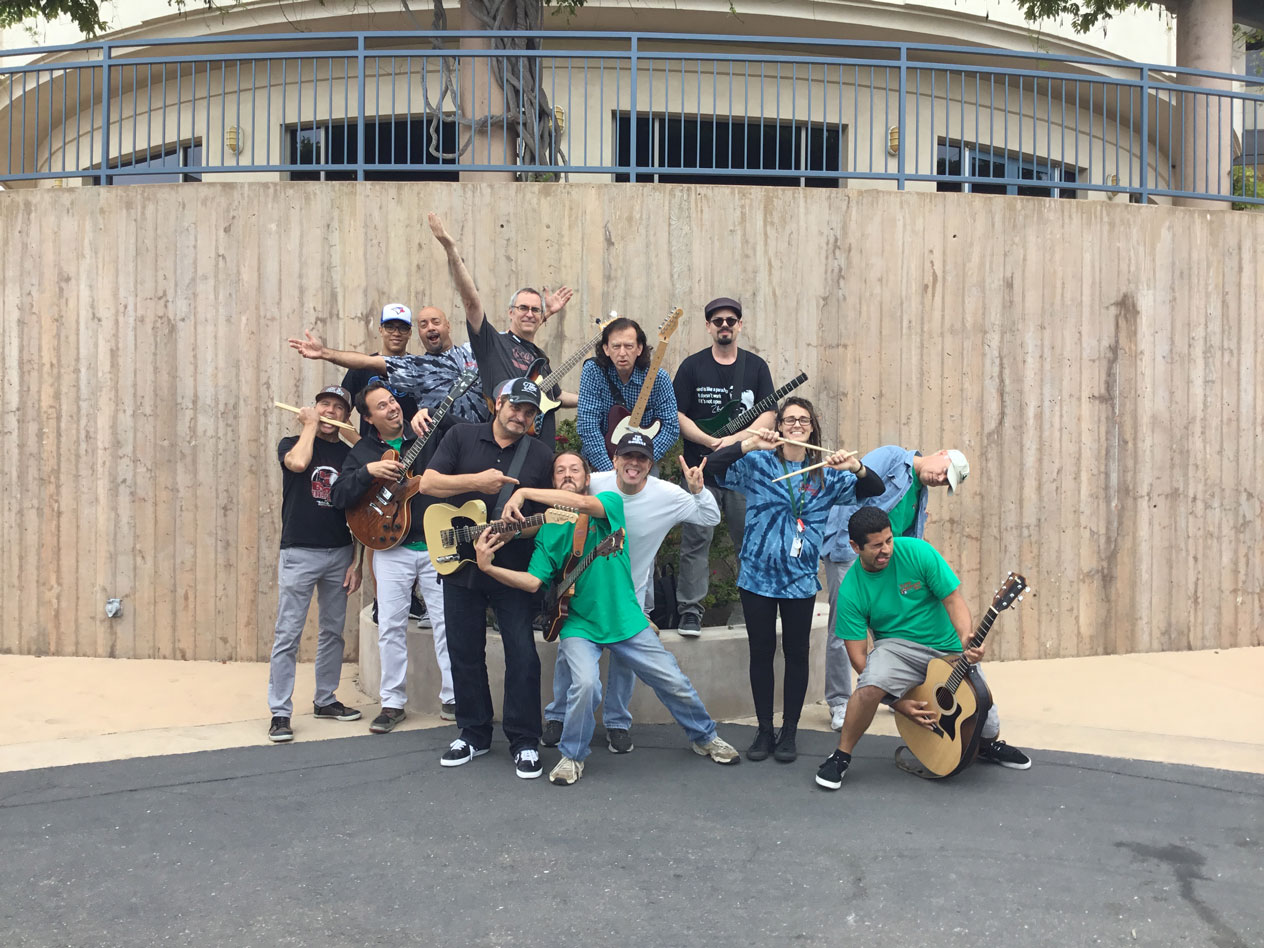 Pricing
2019 Nashville Session Fees (U.S. Dollars)
Registration Fee (non-refundable): $60
Tuition (Per Session): $970
On-campus Room & Board (Per Session): $550
Students attending multiple sessions receive a $100 discount.
Amp Rental (optional): $40
For those students who do not have a small portable amplifier for use in the classroom or dorm.
Meal Package (optional): $255
For off-campus students requiring lunch and dinner.
Extra Night: Early Arrival (optional): $100
For students arriving from out of town who require accommodation the night before the start of the session. Meals are not provided until the session begins.
Private Room (optional): $350
Nashville Travel
Students are responsible for their own transportation to and from the campus. Nashville International Airport is the nearest airport located 35 minutes away. Taxi and shuttle services are available from the airport.
Middle Tennessee State University
Address: 1439 Faulkinberry Dr, Murfreesboro, TN 37130, USA